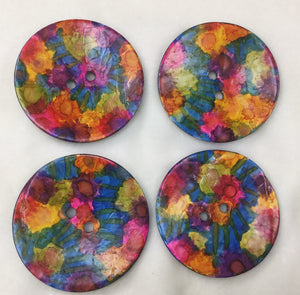 These are 2 "coconut buttons, that I painted, using inks, paints, and other techniques.
All are custom batches, and done in small quantities, once they are gone, not repeatable.
They are finished with a number of coats of museum quality finish, however, i would suggest not washing them. 
Use for embellishment on a sweater, hat or jacket, add to a journal, accent a costume, or a wearable art creation.
Add to a pillow, use for quilting, or a mixed media project.
Or, if you are like me, just add to your button stash!