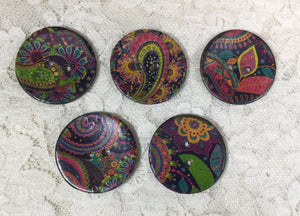 Round Handcrafted coconut buttons, each one created adding a very thin printed paper, then using inks, and metallics, and finished with multiple coats of acrylic. The grain from coconut gives the buttons a leatherlike distressed look.
   Buttons apprx 1 and 1/2" in width, and 1/8" depth. Each button, while from the same batch, will be unique. I know people have said buttons can be handwashed on a garment, inside out, however I have never felt entirely comfortable while doing. Please note, i am not advising, i feel safer removing, or covering with foil. These buttons are embellished with metallic and inks, not sure how washing will work! I would advise against washing.
More can be made of each pattern. Minimum of 6 per pattern, 2 weeks for special orders.