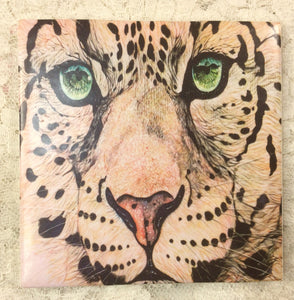 Ceramic tile is decoupaged with original colorwork from Great Adirondack Yarn co. Back has a cork bottom, if tile is for backsplash or tile work, please ask for special order and I will leave off! 
Tile is finished with multiple coats of clear finish, and will withstand a hot or cold drink. Would not use as a trivet for hot pans.Not dishwasher safe!
 Special orders approx 2 weeks!