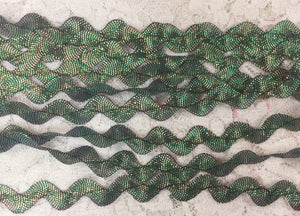 This is a 5/8" wide ric rac from Great Adirondack.
  Vintage ric rac from a well known trim company that has closed. 
  It is fun to use for jewelry, Trim, adding to a quilt, or jean jacket, Journaling pages, Scrapbooking, Mixed media, or embellish your jeans.
 This is polyester with irise, with a very dramatic look. 
  We have been dyeing yarns for over 39 years, and enjoy seeing the blend of beautiful fibers and colors, creating a unique and individual yarns and ribbons. All dyeing takes place on our small horse farm in upstate NY, in a town near the Adirondacks. Please visit our store www.sweethorsedesignco.com for unique and one of a kind yarns, clothing, buttons and more!